A Supermarket goes to the theatre. The artist, Anna Scalfi Eghenter, created this art installation placing SIDAC Euroscacco shelving centre stage at the Santa Chiara Theatre of Trento.
COVID restrictions forced the closure of this historic theatre, thus providing an ideal opportunity for the creation of this artistic installation, named "Interim Measure" (temporary measures).
A reflection on suspended cultural activity throughout this period of COVID restrictions. This "temporary supermarket" opened a legal loophole which permitted public access to this cultural venue that would have otherwise remained closed. The theatre going public were treated to this work of art and were even able to interact with this installation by purchase all displayed goods.
The centre piece of this artistic installation was the SIDAC Euroscacco shelving which, thanks to its modular nature, was able to find a sure footing in this environment. The artist added further baroque embellishments which were a clear homage to the decorative highlights of this historic theatre.
Other News
METALSISTEM projects & activities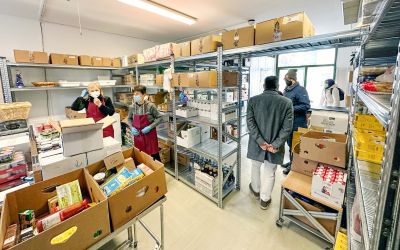 The opening of this new METALSISTEM furnished warehouse for the Rovereto based "A.L.Ma.C. O.D.V." association, has set up the "Aiuto Alimentare" project in support of needy families throughout the Vallagarina area.
read more