METALSISTEM has selected installation photos of a project that uses an interesting mix of METALSISTEM products including Super 4-5-6 Drive-In system, Superbo pallet racking together with a Unirack three tier.
This installation covers a surface area of 2700 m² and offers 240 pallets for the Drive-In system and an additional 1744 locations on 7000mm high Superbo 5 selective pallet racking
The advanced box section design of the Superbo upright profiles together with METALSISTEM's patented connector riveting technology delivered an aggressively priced solution albeit with challenging customer demands and tight delivery schedule. The clever use of customised accessories finished off the pallet racking portion of the installation catering to the final customer's specified requirements. The photos portray a fresh and clean environment, typical of the METALSISTEM's bright galvanised pallet racking range.
The Unirack three tier system completed the installation with a flexible and highly competitive hand picking solution for small goods. In this application, a wall of Super 1-2-3 beams were used to create an attractive and very cost effective alternative to a wire mesh wall.
Other News
METALSISTEM projects & activities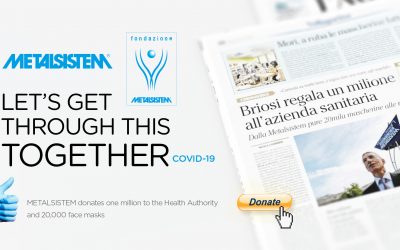 This is a moment to step up to the mark. One million euros donated to support the Health Care Service…
read more