METALSISTEM presents some pictures of three new electronics stores delivered in November together with a remarkable Hypermarket store.
The installations covered a wide range of modules, different types of shelf panels and accessories.
The three 2.000 m² floor area electronics stores feature innovative shop layouts with dedicated customer experience areas where clients can play, test and select products.
These SIDAC branded installations feature the latests Superzinc furniture system implemented to info desks, display tables, electronics display units, payment points, etc.
This design approach introduces a new, engaging shopping experience supported by integrated video walls offering advanced digital customer communication.
On the food side, this brand new 6.000 m² hypermarket adopts a clever combination of the SIDAC Euroscacco central back panel shelving with a D110 upright which maximises load bearing performances without jeopardising capacity. Several departments feature dedicated settings with personalised canopies (e.g. personal hygiene, beer, coffee etc.).
The checkout barrier is made up of 22 Geoclass counters paired in 10 Geostar isles and two specific cash & carry model counters for bulk shopping. All counters fitted with state-of-the-art accessories and COVID operator protection.
Other News
METALSISTEM projects & activities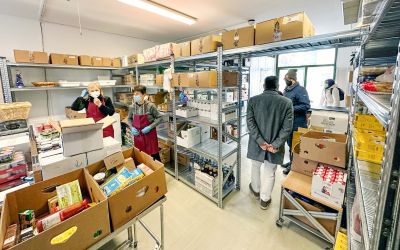 The opening of this new METALSISTEM furnished warehouse for the Rovereto based "A.L.Ma.C. O.D.V." association, has set up the "Aiuto Alimentare" project in support of needy families throughout the Vallagarina area.
read more