METALSISTEM proudly presents some pictures of a recent Super 4-5-6 pallet racking installation delivered in Sofia (Bulgaria). The system is 10 metres high and can stock up to 5500 pallets on a surface of 5,200 m², it was designed to stock imported delicatessen products from France and Italy such as liquors, coffee, chocolate, pasta etc. etc.
The Super 4-5-6 system, thanks to its 33 mm pitch and four-sided connection, permits flexible connection options for auxiliary systems such as sprinkler fire extinguishing systems.
Other News
METALSISTEM projects & activities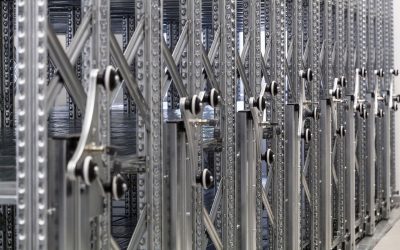 METALSISTEM publishes today some pictures of a unique Mobibasic reference installation. The Mobibasic mobile bases installation features four blocks of eight trollies each for a total of 32 double side mobile bases.
read more