Multi-tier Installation for the Storage of Spare Parts. We are pleased to share new photos of a major reference installation that have just arrived to us, by courtesy of one of our international trade partners.
This project has been designed as a multi-tier installation using METALSISTEM's Unirack and Super 6 product series, covering a total surface of exceeding 900 m², with frame heights of 7 metres.
This warehouse has been achieved for a company that is in the business of spare parts for the automotive industry. A large range of different items of varying sizes and dimensions can be stored.
The installation also includes an elevator to ensure best material handling procedures. The whole project has been designed, calculated, specified, supplied and erected in full autonomy by our local trade partner and its team of highly skilled professionals.
Other News
METALSISTEM projects & activities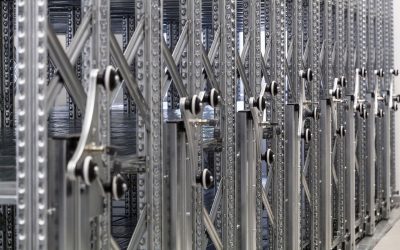 METALSISTEM publishes today some pictures of a unique Mobibasic reference installation. The Mobibasic mobile bases installation features four blocks of eight trollies each for a total of 32 double side mobile bases.
read more