METALSISTEM Seismic Racking Structure designed for a Dairy Factory. We are pleased to present a selection of photos referring to a recent reference installation achieved by METALSISTEM for a dairy industry in the Italian Region of Reggio Emilia. This particular region of Italy has been very much in the news recently, due to a series of heavy earthquakes that struck its territory in the first half of this year.
For this project, METALSISTEM has supplied a seismic cantilever structure, known as a cheese ageing rack, developed to answer specific needs for the high density storage of ageing Parmesan cheese. Once again, the unique characteristics of METALSISTEM's patented Super 4-5-6 series have provided the perfect platform to resolve the requirements of this particular niche market.
The 33mm pitch of the upright section, the 8 connection points on the 4 faces of the profile, the closed profile section without perforations or welding are all innate characteristics of this unique product series, meshing perfectly with the requirements of the food sector in terms of hygiene, resistance to oxidization and optimization of available space. From a technical point of view, the structure is made up of sets of three Super 4-5-6 uprights each, plated together to form double sided columns in 6700 mm height, set at intervals of 1500 mm.
This configuration allows for the storage of 3 Parmesan forms per side over 18 storage levels in height at a pitch of 330mm. The columns are anchored to the floor through C profiles while a combination of portal ties and cross bracing consolidate the entire structure overhead, in addition to providing support for ancillary equipment such as air conditioning and lighting. Longitudinally, diagonal struts, also created with Super 4-5-6 standard components, provide stability to the structure. Low profile cantilever arms have been specifically created to maximize available storage space.
By applying the resources of Metalsistem's internal Research and Development Department, this has been achieved through a combination of reduced profile dimensions and the introduction of three different pitch versions, thus achieving a standard upright pitch cut into 11mm multiples. All this while exceeding the exacting load bearing capacity requirements with ease. Every storage level is covered with fir wood panels and accessorized with back stop profiles to contain the cheese forms and prevent the same from falling down.
The selection of structural steels coated with a special zinc, aluminum, magnesium compound makes this structure particularly suited to the storage requirements of this sector, both in terms of durability and cost efficiency.
The structure has been designed to carry up to 25 loading levels in height, in conformity with the Italian Seismic regulations (legge 122/12; ex D.L.74/12, Norme Tecniche per le Costruzioni 14/01/08 (NTC2008), UNI/TS11379:2010 and legge 1086/71). The structural modeling has been conducted with the aid of finite element analysis programs such as ANSYS and STRAUS.
The attached pdf-file contains a selection of photos of the installation. Click here to view a short video featuring the behaviour of the structure under a seismic event.
Other News
METALSISTEM projects & activities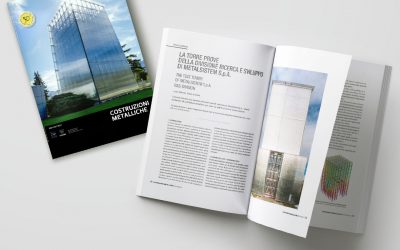 METALSISTEM is proud to publish an extract from the "Costruzioni Metalliche" magazine, an important construction engineering Italian periodical. This article discusses the test tower currently used by the METALSISTEM R&D team for full scale pallet rack seismic testing.
read more